Buy For Me-Shipping Guide
Select Item=>Submit Order=>Pay For Item=>Cargo100 Purchase=>Inspection And Storage=>Pay Intl Shipping Fee=>Waiting Delivery=>Delivered & Review
Select Item
Choose products from Chinese ecommerce websites and copy the link of your desired item. Paste the link in the Cargo100 .
1、 Available for Taobao.com, Tmall.com , JD.com , VIP.com, Dangdang.com, 1688.com and wechat .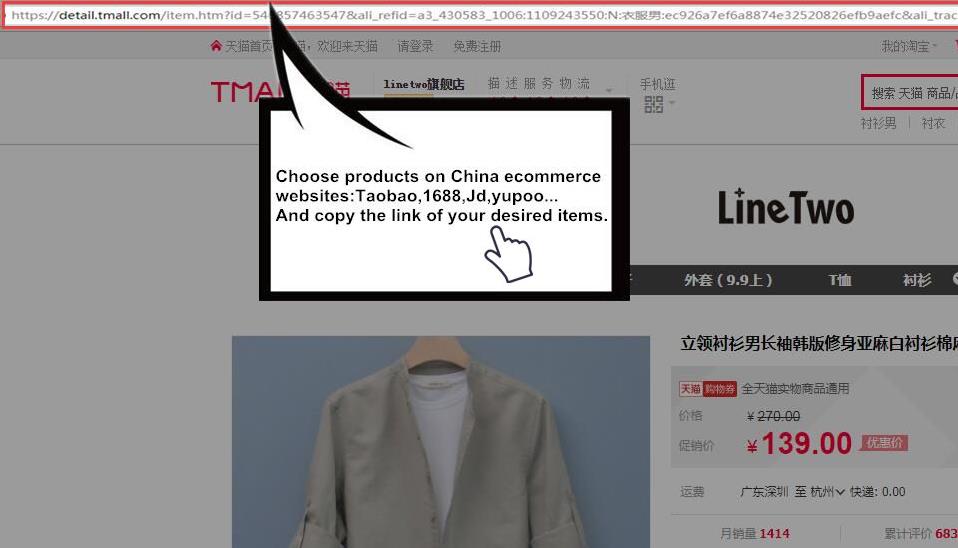 Submit Order
Fill in product information and submit your order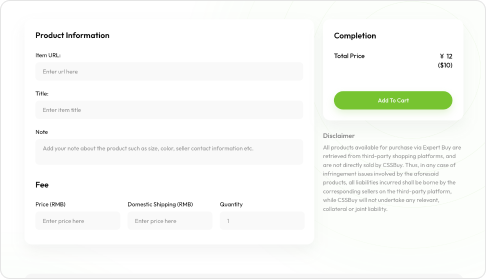 Pay For Item(S)
Choose payment method and pay for the item and Chinese local delivery fee.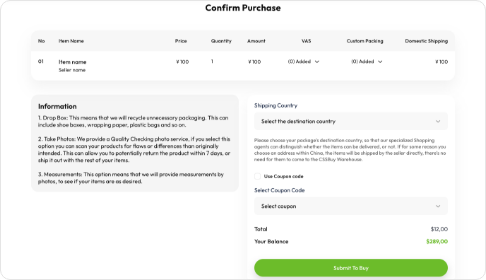 Tips
Available with multiple currencies
Payment Methods: PayPal, Credit Cards, Wechat, Alipay, Sofort, Giropay, Chinese Debit Cards, Bank Tele Transfer.
Cargo100 Purchase
Cargo100 will contact the seller and purchase your ordered items.

During the purchase process, you can click 'add note' to contact us for any further details. We will contact you via email or message if needed, i.e. some information is needed to be completed by you.
Inspection And Storage
Quality inspection will be carried out and items will be stored in the warehouse. You can check the status of your order once the product has been received.

Tips
1、 Once the item has arrived to our warehouse, a series of quality inspection will be carried out and the photos will be taken for you to view them. We will contact you immediately if there are any problems.
2、 Products purchased from 1688 has a different set of quality control standard
Pay Intl Shipping Fee
TIPS1. Some items may be restricted with a certain delivery method. However, we have selected a few recommended types of delivery for you to choose from the list.2. We provide additional services such as packaging removal, package reinforcement, insurance, etc. Please inform us under remark and we will follow your request.
Select payment method for the international shipping fee deposit and customs fee
TIPS1. The international shipping fee deposit is calculated according to the product estimated weight, the selected shipment method, and the destination.
2. The final shipping fee will be calculated according to the package size and weight verified by the shipping company. If there is a discrepancy between the final shipping fee and the deposit, the amount of difference will be returned to your Cargo100 account after the product is shipped
Waiting Delivery
You can track your package and follow its shipping progress on the "My Order" page
There is always the possibility that accidents may happen during international package shipments. Such circumstances include delays, confiscation, taxes, package damage, missing packages and more. Cargo100 cannot control or prevent accidents that may happen when your package is in the hands of a third-party logistics company or the customs, nor will we be able to guarantee the service quality of other companies not affiliated to Cargo100. However, we aim to provide the best service possible to our customers and will inform you beforehand of the shipping situation for each shipping route or country you select and do everything we can to aid you if problems occur.
Once you have received the parcel, you can confirm the delivery via''My Order'. If you have any question regarding to the parcel, you can also choose the relevant parcel and add note for after-sales service.
Delivered & Review
Once you completed the review, credit will be earned. Don't forget to earn credit as it can be used to deduct the international delivery fee.